RUDOLPH, THE DISABLED REINDEER?
By
Kayla Smith
Have you ever considered Rudolph, the red-nosed reindeer, as having a disability? I hadn't until I recently watched the holiday classic again from a different perspective. His shiny, red nose was a birth defect which gave him a different appearance, so that could be considered a handicap or a deformity. I don't think he viewed himself as being "different" until his peers made fun of him by calling him names and discriminating against him by not allowing him to play their games.
Although Rudolph is a fictional character, the children's story has several points I can identify with as a disabled person. I think the tale has lessons for both children and adults. Let's pretend Rudolph is real and has emotions. Consider what the reindeer's cruelty must have done to his self-esteem. Maybe he felt like I did in elementary school when a girl visited my class and laughed at me for how my face looked. As a sixth grader, I hadn't noticed my face appearing any different than anyone else's until that incident, and then I began taking good looks in the mirror trying to see how others saw me. By looking through their eyes, I could see how there was an unnatural expression on my face caused by my uncontrollable facial movements. This revealed to me another difference between my classmates and myself, which lowered my self-esteem. My unpleasant experience still affects me today because I'm self-conscious about how I pose for pictures, which causes my face to be contorted even more.
Rudolph must have wondered why he was excluded from social events just because he had a glowing nose. Although I've never been excluded from anything, I have been ignored occasionally. Why don't some people want to be around someone who is a little different than them? Are they afraid they can't have a normal conversation with the person, or do they feel better than him/her? In my opinion, the answer probably varies with each individual, and I believe there are more reasons behind their actions besides these two.
According to the television version of the story, even Santa was prejudiced since he didn't want Rudolph on his reindeer team. This would be job discrimination because even though Rudolph was capable of pulling the sleigh, he was denied the opportunity only because his nose was an unusual color. I haven't had to deal with job discrimination, but I know it's a part of many disabled individuals' lives.
Some employers may not mean to be prejudiced against disabled applicants, but they automatically presume they cannot handle the job because of their disability whether that's true or not. I believe if someone can prove his/her disability will not interfere with his/her job performance, he/she should be given an equal opportunity in the work force. Rudolph was only given a chance because Santa was desperate on that foggy Christmas Eve. Would Rudolph have remained unemployed if that fateful night hadn't have happened?
After Rudolph proved his capabilities, he became a well respected and liked member of the team—a hero even. Why did he have to do a heroic deed to be accepted? Like Rudolph, there have been times when I've felt that I needed to be a genius to prove that I have normal intelligence in some people's eyes since they misjudged my I.Q. simply because they only saw my physical limitations.

I, like most people, don't think of Rudolph as disabled, but the way he was treated demonstrates how prejudice can make any infirmity worse. The disabled have enough to handle without the unjust opinions of close-minded individuals.
May this be a wonderful holiday season for you. As you watch "Rudolph, the Red-Nosed Reindeer" with your children or grandchildren, think about the questions I've raised in this article.
© Copyrighted by Kayla Smith

Rudolph The Red Nosed Reindeer
You know Dasher, and Dancer, and
Prancer, and Vixen,
Comet, and Cupid, and
Donner and Blitzen
But do you recall
The most famous reindeer of all


Rudolph, the red-nosed reindeer
had a very shiny nose
and if you ever saw it
you would even say it glows.


All of the other reindeer
used to laugh and call him names
They never let poor Rudolph
play in any reindeer games.


Then one foggy Christmas eve
Santa came to say:
"Rudolph with your nose so bright,
won't you guide my sleigh tonight?"


Then all the reindeer loved him
as they shouted out with glee,
Rudolph the red-nosed reindeer,
you'll go down in history!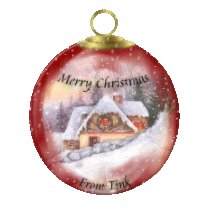 Click the globe to visit Tink's Christmas page.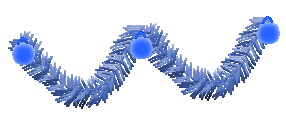 Thanks, Sandy, for this cute graphic!
Click the snowman-in-the-box to visit Sandy aka Furby's Crafts site.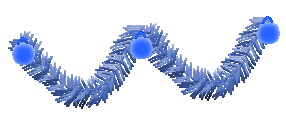 My net friend, Mikki, has a wonderful site where she has published many of her dad's poems. Below are two Christmas pages from her site. I think you will enjoy reading her dad's poems as much as I do.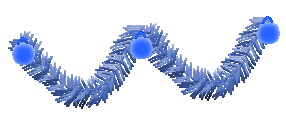 I don't consider myself a poet, but I enjoy writing haiku occasionally. Here's a Christmas haiku that I wrote.
Large star shining bright
Guilding shepherds through the night
Infant King is born

- Kayla Smith