Received in January 2002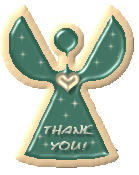 Click here to visit Mikki's "Grandma's House" site
Mikki sent me the above Angel cookie as a gift after I e-mailed her to thank her for visiting this site and complimenting her on her lovely web site. Visiting her site really is like going to Grandma's house because she shares poems that her father wrote and memories of her parents. The beautiful graphics and accompanying music add to the "homey" feel. I was so impressed with her site, I wanted to share it with you.

Thanks, Mikki, for the Angel cookie and for your kind comments about this site!

Received in February 2002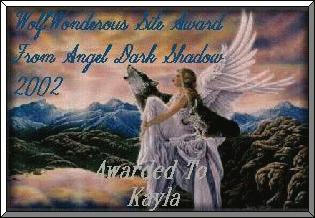 Click here to visit Angel Dark Shadow's "Words of the Revolution" site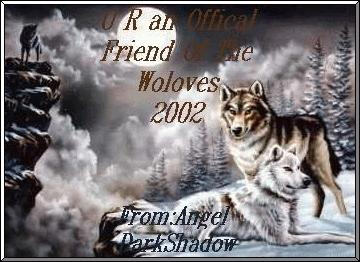 Click here to visit Angel Dark Shadow's Majestic Wolf page
I'm honored that Angel Dark Shadow thought this site deserved the above beautiful award and gift! She has many lovely web pages that I think tells the truth and what's imporant in life. Above, I've included links to two of her web pages, which I think you would enjoy checking out.
Thanks, Angel Dark Shadow!

Received in May 2002

Click here to visit Tink's Web
I honestly don't know how to thank my dear friend, Tink, for bestowing another beautiful honor to me and this site! I must give her most of the credit for decorating this site because many of the graphics that you see on this site are creations of Tink's. I truly appreciate you honoring Kayla's CP Page as the "Site of the Month" for May, Tink, and for giving me another beautiful award!
If you need graphics and/or background sets for your webpages, I encouraged you to visit Tink's Graphics because she has many styles and layouts to choose from.
Click here to visit Mountain Momentos
This is another lovely gift from Tink, which she got from Mountain Momentos. You can find many beautiful gifts and globes like the one above at Mountain Momentos.
Thank you so much, Tink!

Received in July 2002

When my net friend, Sandy, a.k.a. Furby learned that my birthday is July 26th, she presented me with this adorable birthday graphic. Click the graphic to visit her S & B Crafts page. You'll find many cute graphics and fun things to do on her pages!
Thanks, Sandy!

Received in July 2002

Mikki's "Grandma's House" site
When Mikki learned my favorite color is blue, and my birthday is in July, she surprised me with this lovely little Angel. Thank you, Mikki, for being a great net friend and for this beautiful gift!

Received in September 2002

Elainna said that I deserved this award because I'm an authentic and caring person. I appreciate her kind words because it's always nice to receive positive feedback from a fellow writer.

Received in October 2002

I appreciate the above lovely gifts from Lady Bobbii, whom I admire! If you visit her website by clicking the above graphic, I think you'll also be inspired by this lady's optimistic attitude about life after she has endured many difficult experiences including abuse and health problems.
Thanks so much, Lady Bobbii!

Received in March 2003
I don't think I deserve this award from Matt (Jamin' With C.P.) because I'm not really a webmaster, but I appreciate this award since it's from a special friend! Thanks, Matt, for all the awards you've presented me for this site.
I would also like to thank my net friend, Tink, for making this sparkling award for Matt to give to me.
You can find links to Matt and Tink's sites throughout this site.

Received in June 2003
I received this lovely gift for signing Chakeeta's guest book. She's a member of Women of Strength & Inner Beauty like I am. Click the above gift to visit Chakeeta's Crystal Caves site.
Contact Me


View My Guestbook
Sign My Guestbook

My Other Pages

My Friends' Sites

Please temporary turn off your pop-up ad blocker if these Web links won't open.
Kim's Site: How I Cope With Cerebral Palsy